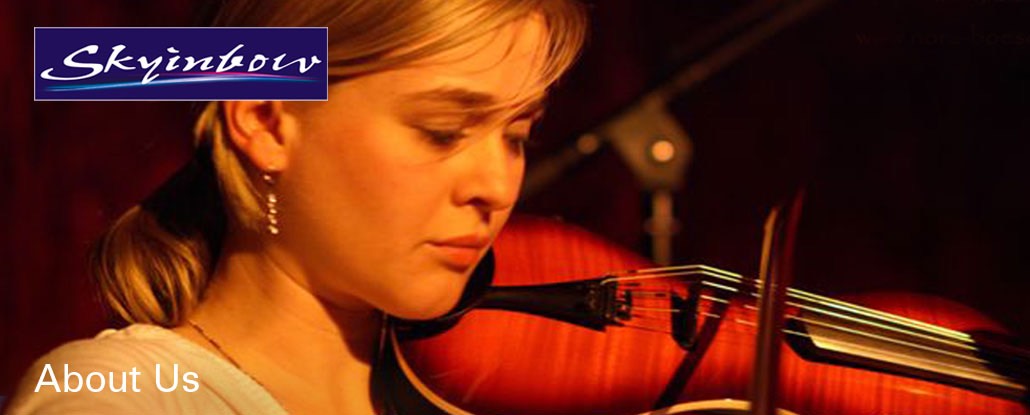 Please note that our workshops are currently closed.

During the 1980's, we began developing our own unique approach to the technology of acoustic instrument amplification,  In 1989 we began to concentrate more on electric and acoustic/electric violin family instruments, a concentration that culminated in the development of the patented Skyinbow S1 electric violin.

We have never stood still at Skyinbow.  In response both to the needs and wishes of our customers and to advances in technology, Skyinbow has continued to develop and improve its products.  Led by technology, inspired by tradition and rooted in traditional craft skills, Skyinbow's mission is to bring you, the acoustic/electric musician, new opportunities to express your art.

Building on over 30 years of experience, experimentation and expertise, the various members of Skyinbow's violin electric and acoustic/electric family are amongst the most highly-regarded instruments of their kind available today. 
Reknowned for playability, accuracy of sound and sheer tonal quality, Skyinbow violin family instruments bring pleasure to both player and listener across a wide range of musical styles ranging from country, folk, classical, rock and pop to jazz. 

All Skyinbow electric and acoustic/electric instruments feature the brand new Pure Acoustic transducer and battery-free, active preamplifier system.

Engineered to give the best possible audio performance, the Pure Acoustic pickup system delivers an audio performance akin to that of a microphone.  The battery-free active electronics keep the additional weight of the system to an absolute minimum, adding to an even more natural playing experience.

Skyinbow's dream of a violin that would amplify accurately has resulted in a range of electric and acoustic/electric violin family instruments that play and sound just like their acoustic equals.