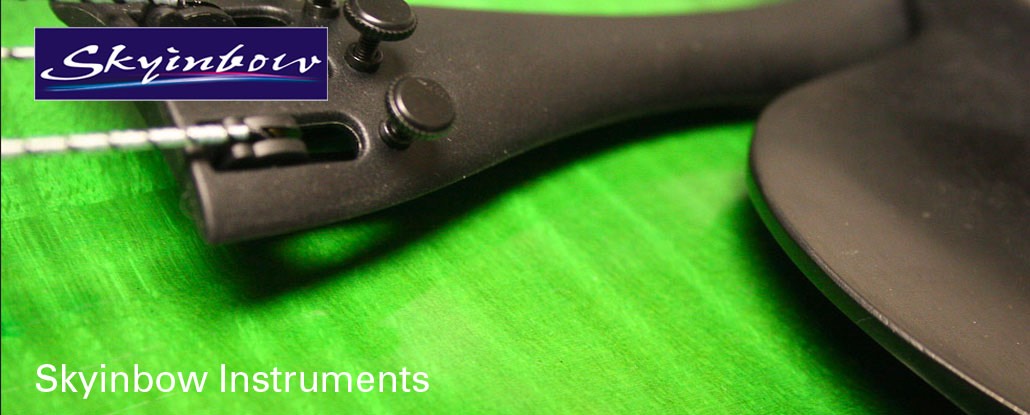 Skyinbow S1 Electric Violin
The award-winning Skyinbow S1 electric violin is an extremely popular, versatile and successful live performance instrument.  Suitable for both expert and beginner alike, the Skyinbow S1 sits as comfortably in the electro-orchestral environment as it does in those of country, jazz, folk or heavy rock.
 
The Skyinbow S1 is handmade from fine tonewoods. The neck and patented back brace are made from solid maple, coupled with maple and spruce for its body.  The patented design and construction of the Skyinbow S1 gives it a warm, natural resonance with almost no microphonic body noise, feedback or wolf notes, even in high volume situations.
 
Like all Skyinbow electric and electric/acoustic violins, the S1 is fitted with the latest generation Pure Acoustic transducer and battery-free, rechargeable preamplifier system, which means that no external preamplifier is required. The preamplifier is recharged simply by plugging a PP3 battery into the S1's output jack socket, using the special lead provided. The battery-free active electronics keep the additional weight of the system to an absolute minimum, adding to an even more natural playing experience.
 
The Pure Acoustic transducer and preamplifier system gives the Skyinbow S1 an extremely accurate acoustic violin sound when used in conjunction with a suitable amplification system.
 
The Skyinbow S1 can also be used in conjunction with effects pedals and processors. Although its sound is essentially that of an acoustic violin, it is more than capable of entering rock and heavy metal territory when driving distortion pedals and other high gain amplifiers.
 
The Skyinbow S1 is available in a range of stunning finishes in both solid and translucent colours


Electro-Acoustic Violin and Viola 
Skyinbow have now launched a range of electro-acoustic violins and violas that feature the latest generation Pure Acoustic transducer and battery-free, active preamplifier system.  This means that no external preamplifier is required.
 
The specially-designed chinrest houses the new active pre-amplifier, 1/4" output jack socket and rechargeable power supply. The power supply is recharged simply by plugging a PP3 battery into the output jack socket, using the included special lead.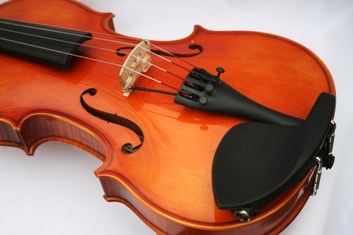 Designed to provide players with affordable, professional level electro-acoustic violins and violas, these instruments are available in two distinct ranges. 
 
Models 26, 28 and 29 are made from European maple and spruce, with quality ebony fittings and are professionally set up for players who require a violin for playing in, for example, an amplified electric band. 
 
Models 4, 6 and 8 are handcrafted from quality European timber and feature superior quality ebony fittings. The top and back plates are individually tap-tuned and are hand-finished in a traditional spirit varnish.  The superior acoustic sound of this range of violins means that they are especially suited to amplified folk and classical music environments.